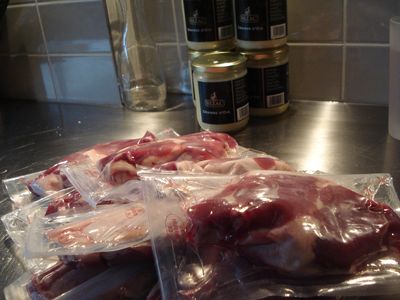 This years Christmas I decided to live up to the Duck Dogma ("Whenever you see Duck, eat it!") and made Confit de Canard.
Confit is a means of preparation where one starts with salting  the meat and then cook it gently, drowned in fat. 
Duck has the property to turn dry when prepared, you can prevent that by making sure the meat does not boil.
When roasting the meat that can be prevented by roasting it on a high temperature so that it is sealed by its own crust, and then leaving it on a relatively low fire until its done.
The alternative way of preparing is to seal the meat in fat and slowly let it simmer. I have been told that can prepare beef at about 40 degrees Centigrade as long as you keep it at that temperature for a few hours, never tried it though.
I prepared the confit for 9 persons, so I bought myself 18 legs and 5 cans of goose fat.
I rubbed the legs with salt, crushed pepper and pimento. This is something that I intend to improve on the next time I prepare this. Then I plan to salting the legs by marinade them in a salt solution for a day or so.
Arrange the legs in a casserole and cover with goose fat. Use sufficient fat to make sure the legs are covered when the fat is melted. It took me exactly 5 pots of 0.5 liter.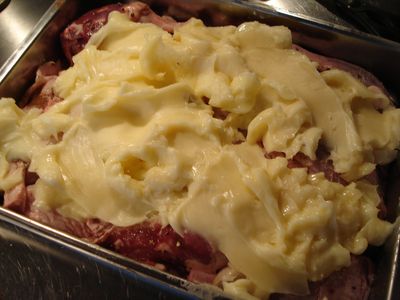 For taste add a few cloves of garlic, a few onions and a few leaves of laurel.
Put this in your oven, temperature around 100 degrees centigrade so that the meat itself is at about 90 degrees. Leave this simmer for about 3 to 4 hours. That is all, real easy, cannot fail.
By the way, a pot of goose fat of 0.5 liter costs about 4 Euro, I've never spend so much money on grease. But fortunately its great fat to prepare potatoes in.